A Bob Dylan line arrived at this morning as a consequence of researching the word "fashion." That's the only time Bob Dylan ever used the word "fashion," in
a song about Jesus
. Meade recommends Lou Reed's version of the song:
Now, the reason I'm researching the word "fashion" is that yesterday — a propos of the rocket scientist's pinup-festooned shirt —
I said
:
"In the broad span of human culture, fashion is more important than space travel."
I didn't elaborate at the time, because it would have been a detour, and also because I thought it would be much more interesting and entertaining to see how much scorn I could incur for saying something that I knew was a cinch to defend.
Click on this blog's
"fashion" tag
and see all that is encompassed in this topic. I've found 618 occasions to discuss something that fits my conception of "fashion" over the past 10 years. Few subjects rival fashion. Law has 5000+ posts, but other than that. Dylan? 337. It's bigger than Dylan. The Beatles? Only 173. Are The Beatles bigger than Jesus?
Are The Beatles bigger than Jesus on this blog? No! The Jesus tag is used 301 times. So Jesus is bigger than The Beatles, but not bigger than Bob Dylan, according to the metric of blog tags.
Fashion is more important than space travel
drew the predictable scorn — much of it in the this-is-why-women-can't-do-science mode — but there were some comments that took things in the direction I'd intended. Dustbunny said:
I like this site because it is smart, funny and littered with Dylan references.
Yes, it is!
Unlike a number of left wing or right wing sites Althouse plays with the stereotypes with which those sites proudly and quite stupidly adhere. I am going to think deeply about the influence of fashion throughout history, but I'm not convinced there is a great deal there except on an esoteric level. Fashion leads to variations on a theme, science lead to space exploration. I am a woman, I grew up reading Seventeen and Vogue, I studied art history and I concede that Coco Chanel was a badass who changed a small but recent block of history..Also I studied art because math was way too hard — l'stereotype c'est moi. Is this about the court at Versailles? sans-culottes vs the aristocrats?
And furious_a had already said:
Hmmm, maybe fashion precedes space travel. Since fashion is intrinsically foreign and requires travel to acquire. Demand for silk and spices drove the merchant adventurers of the Middle Ages to open trade routes to the Far East, after which Columbus and Magellan followed. Demand for furs drew trappers to the Trans-Mississippi West, after which Lewis & Clark followed.
And chickelit said:
Cave people and aboriginals have fashion and very little science (that we know of). So fashion is more basic somehow to human nature. Insofar as fashion is related to mating behavior, fashion is more important than science. You can't advance culture if you can't even reproduce.
Eventually, some people noticed that a lot depends on
the scope of the term "fashion."
Rusty said:
I suppose, Althouse, it would depend on how you define fashion, but in the grand sweep of human history nobody cares what pants Lee Harvey Oswald wore.
And yet, if Lee Harvey Oswald had
not
been wearing pants, he would never have assassinated John F. Kennedy. As
Mark Twain said
: "Clothes make the man. Naked people have little or no influence on society." He also said: "Strip the human race, absolutely naked, and it would be a real democracy. But the introduction of even a rag of tiger skin, or a cowtail, could make a badge of distinction and be the beginning of a monarchy." And: "A policeman in plain clothes is a man; in his uniform he is ten. Clothes and title are the most potent thing, the most formidable influence, in the earth. They move the human race to willing and spontaneous respect for the judge, the general, the admiral, the bishop, the ambassador, the frivolous earl, the idiot duke, the sultan, the king, the emperor. No great title is efficient without clothes to support it."
Glad that someone had finally focused on the scope of the term, I banged out an answer late at night on my iPad, typing with one finger and therefore stating it bluntly:
By fashion, I mean to include all of the clothing that everyone wears. It's important for basic survival, comfort, and protection, and it's a powerful mode of expression for the wearer and the designer. It's intimately tied to the body and thus to our personal presentation. We see others almost always only with their clothes as part of their image, and it affects how we feel and think about them. Clothing is a big part of nearly everyone's life, a huge part of our visual world.
Having missed the issue of defining the term, Joe spoke words of anger:
Way to backtrack, Althouse. Fashion ≠ clothing except in the minds of elitist snobs. If you meant clothing, why the hell didn't you say "clothing"? And you wonder why most people think lawyers are arrogant dicks.
Oh? So now do I get to be a boy? Suddenly, I'm not one of those women who can't do science, nor am I one of those females who outperform males in language-based enterprises. My verbal achievement gets categorized as male, and suddenly,
I am a dick
. Well, at least I get to be an
arrogant
dick.
And arrogance brings me back to where this post started, because that Bob Dylan song quoted in the post title is "Foot of Pride." That song begins:
"Like the lion tears the flesh off of a man/So can a woman who passes herself off as a male."
I can only speculate what that might mean, even as I've only speculated about what Matt Taylor meant to say as he arrayed himself in a shirt patterned with bosom-y ladies. But I wasn't trying to pass myself off as male.
To the extent I applied lawyer-mind to the task of understanding Matt Taylor's fashion statement, I was sticking to the evidence I had: He wore a very loud, attention-getting shirt, and that implies that he intended a message and thus invited us to think and talk about it. I'm still wondering what he meant, why he took it back, and why taking it back made him cry. I wanted to understand. A commenter criticized me for knowing "very little about geek culture," but I never claimed to know. I was the one who didn't want to talk about Matt Taylor's shirt until I noticed the question:
What was he thinking?
Anyway, fashion is a broad term in
my book, which is this blog of 10 years
. And I am not guilty of making it overbroad: As a word in the English language, it is
far broader
. The original meaning is "The action or process of making." The meaning related to clothing is: "A prevailing custom, a current usage; esp. one characteristic of a particular place or period of time... with regard to apparel or personal adornment." That's from the OED, which has as one of it's oldest quotes for the clothing-related meaning,
Shakespeare's 1616 line
: "'Tis some odd humor pricks him to this fashion/Yet oftentimes he goes but mean-appareled."
Pricks? Are we to think of pricks in the sense of dicks?
With Shakespeare, it's a good bet
anything that could be a pun is an intentional pun. And I like to think that even with lesser beings, the expressions that could have deeper meaning really do.
I'm not
talking through my hat
when I say:
You're talking through your shirt.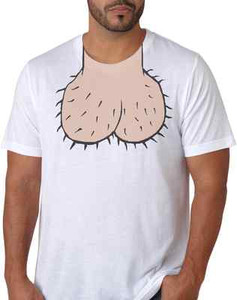 You can't wear that and claim you didn't mean to say anything.
So be more subtle if you want deniability.
Subtlety is
my bag
....