"Bill Burr's 2003 report recommended using numbers, obscure characters and capital letters and updating regularly—he regrets the error."
It's
in the Wall Street Journal
, so good luck trying to read it. Maybe the headline alone will be useful.
Excerpt:
The new guidelines, which are already filtering through to the wider world, drop the password-expiration advice and the requirement for special characters, [said Paul Grassi, an NIST standards-and-technology adviser]. Those rules did little for security -- they "actually had a negative impact on usability," he said.

Long, easy-to-remember phrases now get the nod over crazy characters, and users should be forced to change passwords only if there is a sign they may have been stolen, says NIST, the federal agency that helps set industrial standards in the U.S....

Academics who have studied passwords say using a series of four words can be harder for hackers to crack than a shorter hodgepodge of strange characters -- since having a large number of letters makes things harder than a smaller number of letters, characters and numbers.
The article points us to this popular cartoon, which memorably and accurately shows the problem: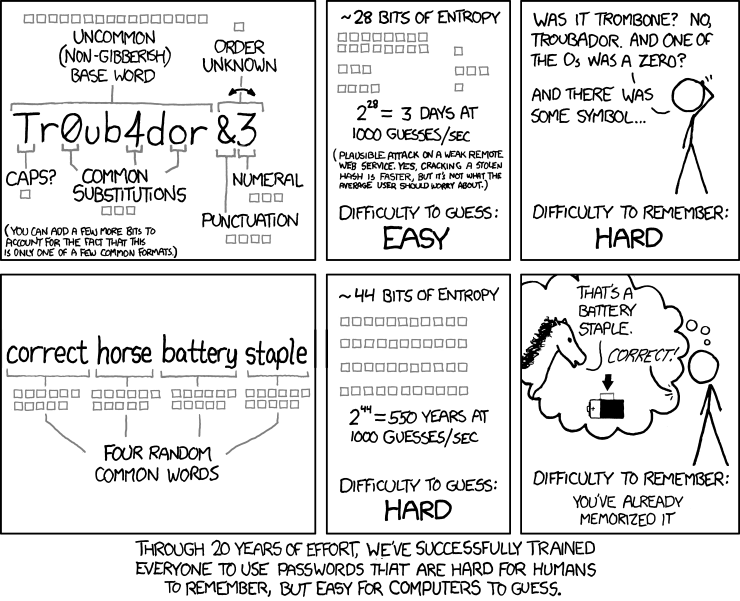 And I liked this:
Collectively, humans spend the equivalent of more than 1,300 years each day typing passwords, according to Cormac Herley, a principal researcher at Microsoft Corp.
And
here
's Lorrie Faith Cranor, the woman who made a dress out of the 500 most-common passwords (like iloveyou).