The post is:
"Trump Campaign Blames Anti-Semitic Tweet on 'Microsoft's Shapes.'"
Feinberg is reacting to Savino's statement: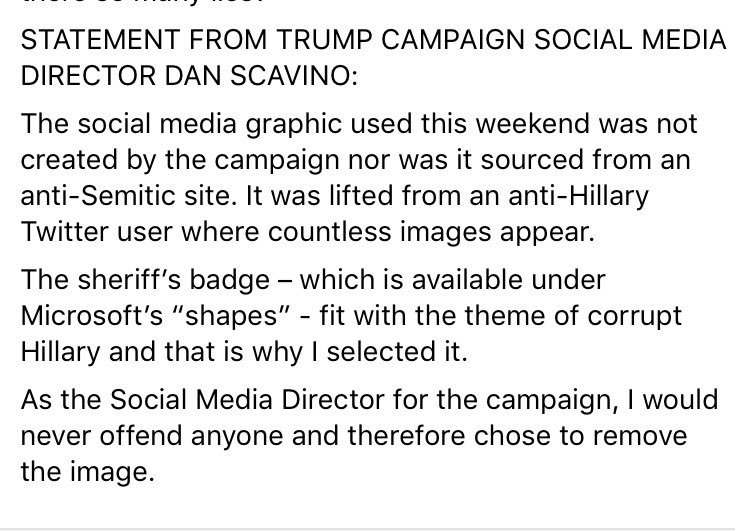 Feinberg's first attack on Savino is that the source of the graphic really is anti-Semitic because, this is another image from that source:
Hillary's face all over a swastika. What can that mean other than
Hillary is a Nazi
?
If calling somebody a Nazi makes you anti-Semitic, then an awful lot of Trump's critics are anti-Semitic.
But Feinberg has another argument. She looks at the "shapes" tag in Microsoft Word and finds no 6-pointed star. She mocks: "There is, however, a triangle which can be used to create a six-pointed star—so maybe Dan was getting creative."
9 minutes later, she posts an update:
Update 10:38 p.m.: Some versions of Microsoft's products do, in fact, carry the star. Dan, I would love to apologize to you personally. Please unblock me.
Brilliant. The star? Generic now. You mean the Star of David? Or just some 6-pointed star, giving evidence that a 6-pointed star can be just a star, just as not every 5-pointed star is
a Satanic pentagram
.
Feinberg does avoid the specious argument I've seen elsewhere, that sheriff's badges have little circles on the points. Some do:
Some don't:
Those who make the little-circles argument
ought to have to deal with the intersecting-triangles aspect of the Star of David. The clearly intentional Stars of David I am seeing — for example at
the Wikipedia article
— have lines separating the points into little triangles around a hexagram. Look at the flag of Israel:
The Nazi's crude patch did not omit those lines:
But what a distraction! This was the weekend after Hillary Clinton's interview with the F.B.I., and her supporters successfully jammed the American brainwaves with the loud message that Trump is a bigot. That's a message they're yelling over and over. It's what they've got. Is it even a message at all or just raw emotional manipulation?