"... especially as a message gets passed around. Over the next few hours, outraged responses poured in by the metric ton. All of them were self-righteously outraged about my closed-mindedness, and old-style thinking, and 'major fail,' and so on. I have never before received anything close to this volume of response on Twitter, and it has never been more vitriolic. And all of it from people taking obvious (to me) sarcasm right at face value."
Writes The Atlantic's James Fallows in
"Why Twitter Doesn't Work with Sarcasm, Chap. 823."
His cry of pain boils down to the old
Don't you know who I am?
It's supposed to be already understood that he's a good liberal who would never seriously align with Trump and Cruz.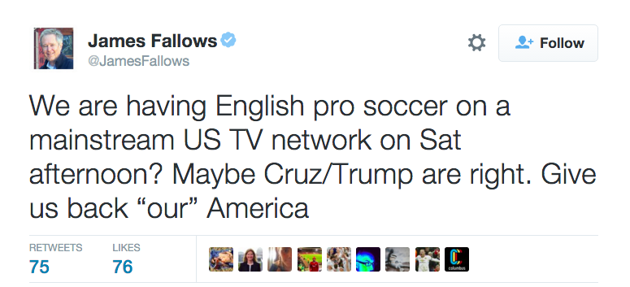 In his natural habitat, he's free to use sarcasm. No one would ever take him for a bad person. But out in the wild world of Twitter, where endless names flow by, he's not free anymore. Sads!