1.
TIME:
"Jacobs was not just a writer who had big ideas, she was also the champion of those ideas in the real world. At the time city planning aimed to make cities orderly, with tall buildings and open space, and had no qualms about demolishing large swaths of neighborhoods to make their ideas reality, as with New York City's Cross Bronx Expressway. A similar highway was the subject of what remains perhaps her most famous battle: The Lower Manhattan Expressway, proposed by city planner Robert Moses, which would have been a 10-lane road cutting across what is now SoHo and Little Italy. At a public hearing on the proposed expressway in 1968, Jacobs was arrested and later charged with 'second-degree riot, inciting to riot and criminal mischief'...."
2.
The Guardian:
"Washington Square Park anchored the Village, offering 10 acres of green space to a steadily changing set of neighbours, from Edith Wharton to Bob Dylan. In 1880, Henry James wrote in
Washington Square
of its 'rural and accessible appearance' – a quality that had not entirely dimmed by the 1950s. Moses, however, upon looking at the park, was convinced that the amenity it most sorely lacked was a four-lane road through its centre." Below: "An artist's sketch from 1959 of the proposed Lower Manhattan Expressway, a 10-lane highway through SoHo and Little Italy that required the demolition of 416 buildings."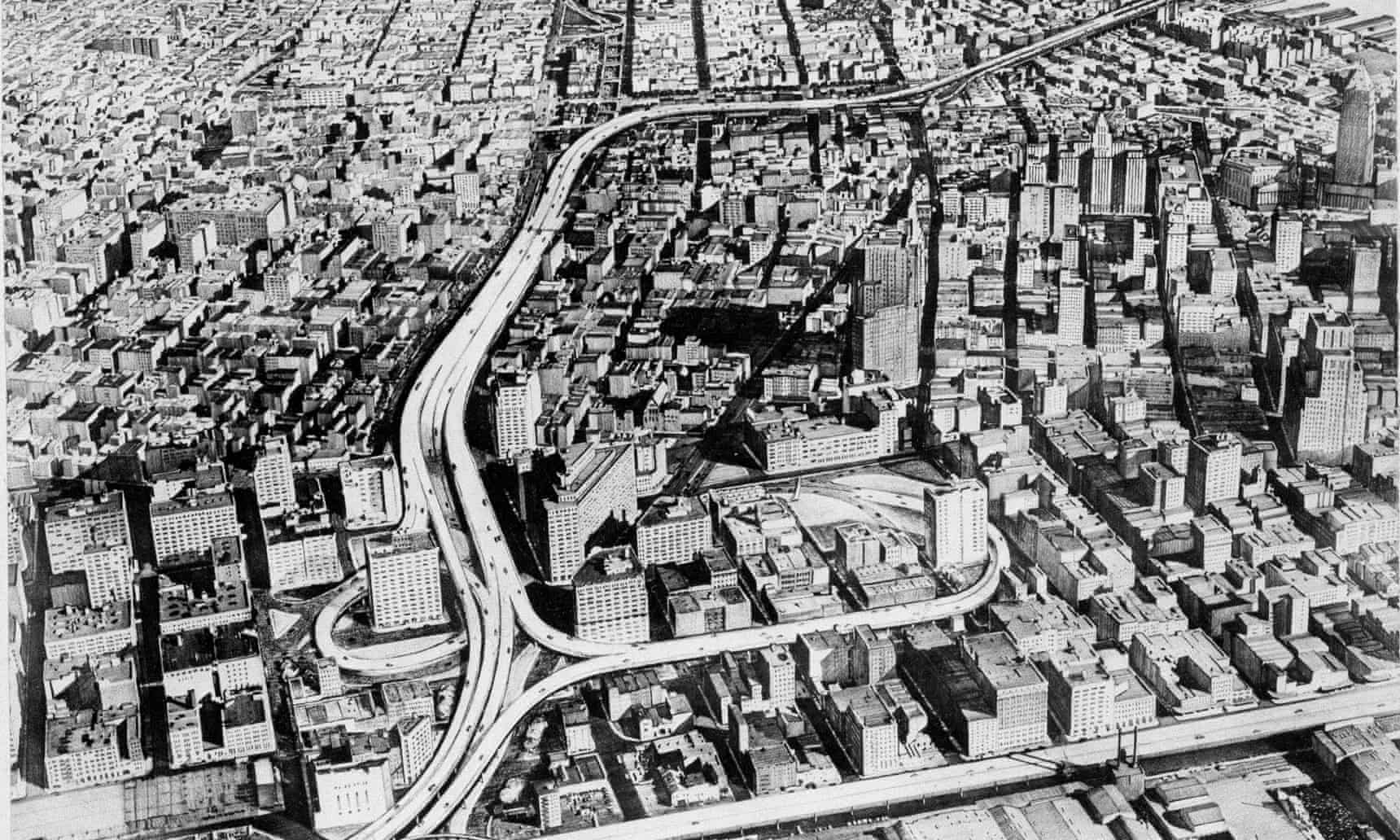 3.
HuffPo:
"Even though Jacobs had no training in the field (let alone a college degree), she turned urban planning upside down and led cities to embrace mixed use development such as what transformed Baltimore's Inner Harbor from urban decay to a major tourist attraction. Just as Rachel Carson's
Silent Spring
in 1962 raised awareness over the misuse of pesticides and sparked the beginning of the ecological movement in the U.S., Jacobs' book fueled the New Urbanism movement."
4.
Treehugger:
"Jane Jacobs did her research just by looking around and watching the sidewalk ballet, but others are now using more sophisticated methods to show that she was right. [Marco De Nadai] at the University of Trento and his team have examined six cities in Italy to test Jacobs' four conditions of multiple functions, small blocks, mixed age and relatively high density. Instead of eyes on the street, they used big data...."
5.
Tech Insider:
"6 ways the 'Mother of Urban Design' has transformed American cities.... 100 years after her birth, many urban dwellers are living in the kind of American cities she imagined and fought for."
6.
Vox:
"Her fight with [Robert] Moses has been turned into an opera called
A Marvelous Order
, drawn from a Jacobs passage about the logic under the chaos of urban life: 'Under the seeming disorder of the old city, wherever the old city is working successfully, is a marvelous order for maintaining the safety of the streets and the freedom of the city.'"
7.
Slate:
"
Bulldoze Jane Jacobs
/The celebrated urban thinker wrote the blueprint for how we revitalize cities. It's time to stop glorifying her theories.... Thinking through how to make cities truly equitable is harder than uncritically reaffirming a small selection of the work of Jacobs. If Jacobs remains an almost-deific figure in urban planning, the profession will end up perpetuating what Jacobs fought so hard against: doing things to cities simply because they replicate the ways they've been done in the past. If we want to celebrate Jacobs, it's time to move beyond her."
8. Gothamist:
"Confirmed: Bob Dylan Did Co-Write Protest Song About Robert Moses With Jane Jacobs."