Via Gizmodo: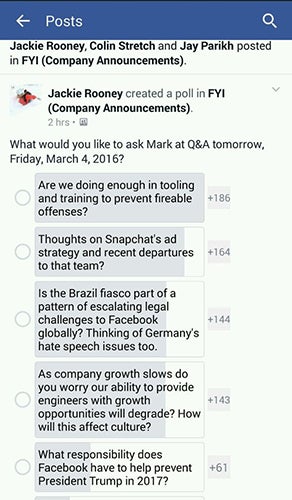 Note that it's a question about asking a question, not statement that there is a responsibility to stop Trump, but it's significant that the question was posed that way —
what responsibility is there
. For one thing, there's an unexamined premise that everyone already shares a political position — Trump shouldn't win — and that speaks of a lack of political diversity and pressure on dissenters within the organization to keep silent. For another thing, it omits any thought of a counter-responsibility to keep neutral politically, the idea that the highest duty is to the freedom of speech of those who use Facebook. (And yes, I know, Facebook is a private company and there's no constitutional freedom-of-speech right against it. This is a topic I've already discussed at great length on this blog, notably
here
and
here
.)
As the Gizmodo writer correctly observes, Facebook isn't like a newspaper or magazine that chooses to skew its presentation of the news:
[R]eaders of traditional media (including the web) can educate themselves about a media company's political leanings. Media outlets often publish op-eds and editorials, and have a history of how they treat particular stories.... With Facebook, we don't know what we're not seeing. We don't know what the bias is or how that might be affecting how we see the world.

Facebook has toyed with skewing news in the past.... If Facebook decided to, it could gradually remove any pro-Trump stories or media off its site—devastating for a campaign that runs on memes and publicity. Facebook wouldn't have to disclose it was doing this, and would be protected by the First Amendment.
It is true that Facebook would be protected by the First Amendment, even as it screwed with the freedom of speech of over a billion human beings. What's tremendously important here is to maintain pressure on Facebook to respect
our
freedom. We don't have a legal right to assert against Facebook, but that is absolutely not a reason to give up and let Facebook do what it wants to repress speech. We have moral, political, social, and economic power, and we should assert it. We assert it through — of all things —
speech
. It can be very effective... which is why we care about free speech in the first place. Even where you don't have a legal right, as long as you are still speaking, you have the power of speech, and the urge to repress it occurs because the speech is effective. The trick is to use speech to convince the would-be repressers not to repress speech.
And, in fact, the evening of the day Gizmodo published the above-linked story, Gizmodo had this:
"Facebook has declared it will never use its product to influence how people on the platform vote."
"Voting is a core value of democracy and we believe that supporting civic participation is an important contribution we can make to the community. We encourage any and all candidates, groups, and voters to use our platform to share their views on the election and debate the issues. We as a company are neutral – we have not and will not use our products in a way that attempts to influence how people vote."