"The Mummers Parade, held each New Year's Day and said to be the oldest folk festival in the country, has tried in recent years to be more diverse, but a musical 'act' put on by a group called Finnegan New Year's Brigade Comic Club was criticized as hurtful and bigoted,"
says The Daily Mail
(with lots of photos). Here's video:
The group's response,
via Twitter
, was: "OMG STOP EVERYONE! Happy New Year 2016!! #Sensitive." And, an hour later: "Finnegans is seriously done with this bs tweeting back and forth and assumptions. Be a man literally and contact our email." And also: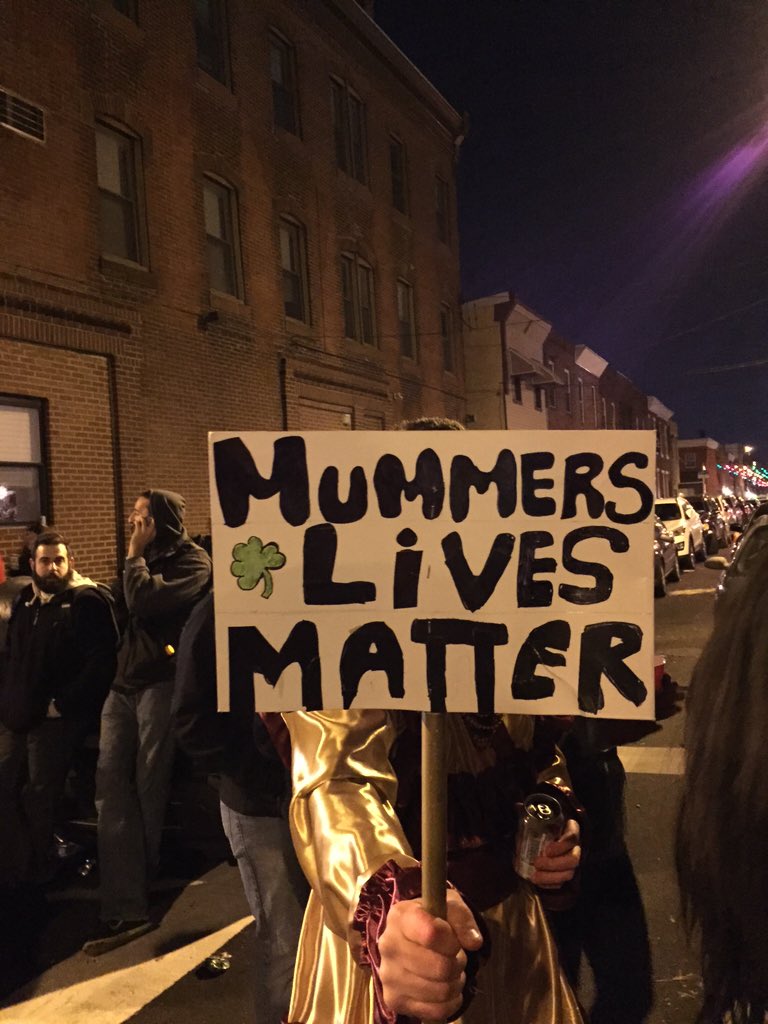 I can't be a man literally, and I'm not one to email people in the news to try to get more info, but I'm interested in the context of the Mummers Parade. I haven't watched it in decades, but I remember the Mummers Parade of a half century ago, when I got my TV from local Philadelphia channels. It was always a bit of a mystery who these men are and why they were dressing up so fancy. So I found an old news article about Finnegan New Year Brigade.
Here.
This is from 1997:
Finnegan New Year Brigade is determined to challenge for the Mummers comic brigade top prize. So for 1998, it has turned itself into a wench club. The guys in Riverfront NYB, who have paraded in wench dresses almost forever and won the big one in '95, are hard at work in their Two Street lair on elaborate props and gold lame turbans. It's the first time they'll strut without the traditional long-braided wigs. Last year, Bryson NYB, a 175-member family wench brigade, copped first prize with silver tinsel wigs and space age gimmickry that included actual females in dresses.

... As the rest of the parade shrinks, the freshest, fastest-growing part of modern mummery is the oldest - wenches. In Thursday's Mummers Parade, up to one quarter of all the estimated 8,000 costumed marchers will be (mostly) guys in wench dresses....

A decade or so ago, the city and some Comic Division directors were trying to exterminate the wench as everything wrong with mummery - drunk, unprepared, unaffiliated, boring, or (before the 1964 blackface ban) insultingly crude.
So cross-dressing is a big deal, and it's something the authorities have been embarrassed about for a long time. It's the low-class end of the traditional parade.
Finnegan NYB, named for a playground in Southwest Philadelphia where members met playing ball, is actually practicing tomorrow for their "Wenches of Oz.'' These are motivated guys, 120 strong, plus 17 sons and three young daughters, out to improve last year's ninth prize.

"It seems like all the time the wenches are winning it,'' said Captain Mike Inemer of Turnersville, N.J. "So we're going to give it a try.''....
ADDED:
Wikipedia sums up the history of the Mummers Parade
, which "traces back to mid-17th-century roots, blending elements from Swedish, Finnish, Irish, English, German, and other European heritages, as well as African heritage":
The parade is related to the Mummers Play tradition from England, Ireland, Scotland and Wales. Revivals of this tradition are still celebrated annually in South Gloucestershire, England on Boxing Day and in parts of Ireland on St. Stephen's Day and also in the Canadian province of Newfoundland and Labrador around Christmas.

Swedes and Finns, the first European colonists in the Philadelphia area, brought the custom of visiting neighbors on "Second Day Christmas" (December 26) with them to Tinicum. This was soon extended through New Year's Day with costumed celebrants loudly parading through the city. They appointed a "speech director", who performed a special dance with a traditional rhyme:


Here we stand before your door,
As we stood the year before;
Give us whiskey; give us gin,
Open the door and let us in.
Or give us something nice and hot
Like a steaming hot bowl of pepper pot!

The Mummers derive their name from the Mummers' plays performed in Philadelphia in the 18th century as part of a wide variety of working class street celebrations around Christmas. By the early 19th century, these coalesced with earlier Swedish customs, including the Christmas neighbor visits and possibly shooting firearms on New Year's Day (although this was common in other countries as well) as well as the Pennsylvania German custom of "belsnickling," where adults in disguise questioned children about their behavior during the previous year.
Belsnickling!
U.S. President George Washington carried on the official custom of New Year's Day calls during the seven years he occupied President's House in Philadelphia. The Mummers continued their traditions of comic verse in exchange for cakes and ale. Small groups of up to twenty mummers, their faces blackened, went door to door, shooting and shouting, and adapting the English Mummer's play by replacing the character of "King George" with that of "General Washington."

Through the 19th century, large groups of disguised (often in blackface) working class young men roamed the streets on New Year's Day, organizing "riotous" processions, firing weapons into the air, and demanding free drinks in taverns, and generally challenging middle and upper-class notions of order and decorum.

An 1808 law decreed that "masquerades" and "masquerade halls" were "common nuisances" and that anyone participating would be subject to a fine and imprisonment. It was apparently never successfully enforced and was repealed in 1859. Henry Muhlenberg, writing in 1839, reported, "Men met on the roads in Tinicum and Kingsessing, who were disguised as clowns, shouting at the top of their voices and shooting guns.

Unable to suppress the custom, by the 1880s the city government began to pursue a policy of co-option, requiring participants to join organized groups with designated leaders who had to apply for permits and were responsible for their groups actions.
The government co-opted it!
The earliest documented club, the Chain Gang, had formed in 1840 and Golden Crown first marched in 1876 with cross-town rivals Silver Crown forming soon after. By 1881, a local report said "Parties of paraders" made the street "almost like a masked Ball." By 1900, these groups formed part of an organized, city-sanctioned parade with cash prizes for the best performances.

Southern plantation life's contributions include the parade's theme song, James A. Bland's "Oh, Dem Golden Slippers" (introduced in 1903), as well as the 19th-century cakewalk, dubbed the "Mummers' Strut" or the "2 Street Strut". Other ethnic groups have been integrated into the parade through the years. Italians began to participate in large numbers after World War II.

The first official parade was held January 1, 1901. The first string band, Trilby, was organized in 1898, first paraded in 1902, and last paraded in 1924.[citation needed] In the early years of the official parade, the makeshift costumes of most celebrants were gradually replaced by more elaborate outfits funded by associations' fund-raising efforts.

As they assimilated to Philadelphia, many immigrant groups have joined the tradition. For example, Italian Americans began to participate in large numbers after World War II.

While almost all parade participants are currently white, African American mummers existed in the past. The all African American Golden Eagle Club, formed in 1866, had 300 members in the 1906 parade, for example. Judges systematically discriminated against black clubs, however, and the last, the Octavius Catto Club, withdrew after receiving last place in the 1929 parade. The brass bands hired to accompany the Comic Brigades often include black musicians, but do not dress in costume and consider themselves session musicians rather than Mummers. By 1964, only one African American mummer, Willis Fluelling, remained. As of 2007, a few of the less traditional clubs, such as Spiral Q Puppet Theater's. West Philadelphia Mummers Brigade, were integrated.

The comic "wenches" and other female roles in most skits are typically performed by men in drag. Women were not officially allowed in the parade until the 1970s.